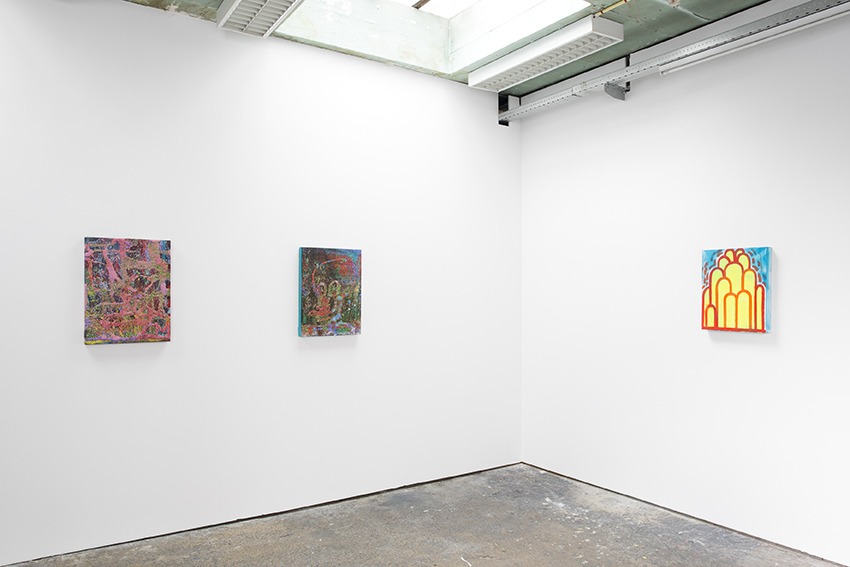 11 September 2015 – November 2015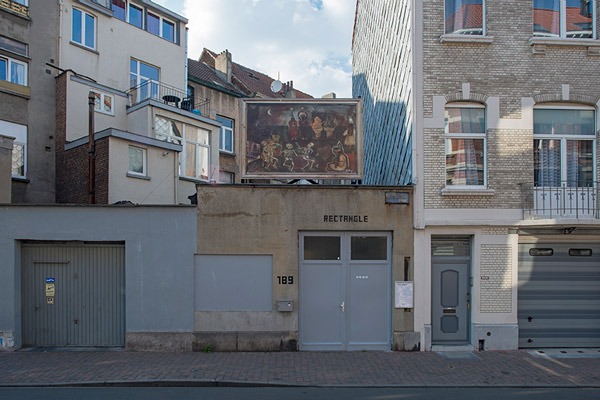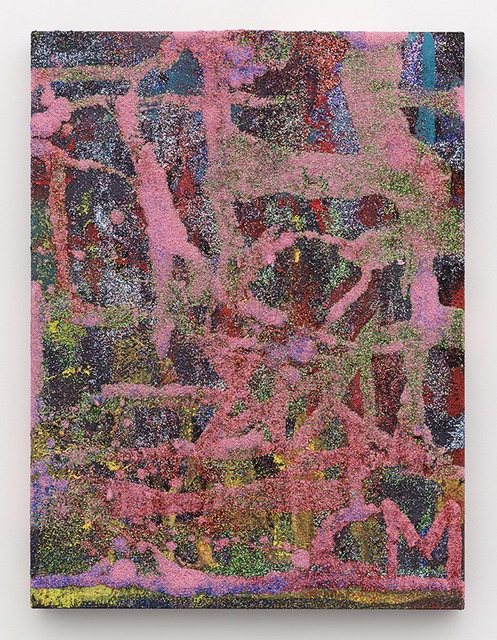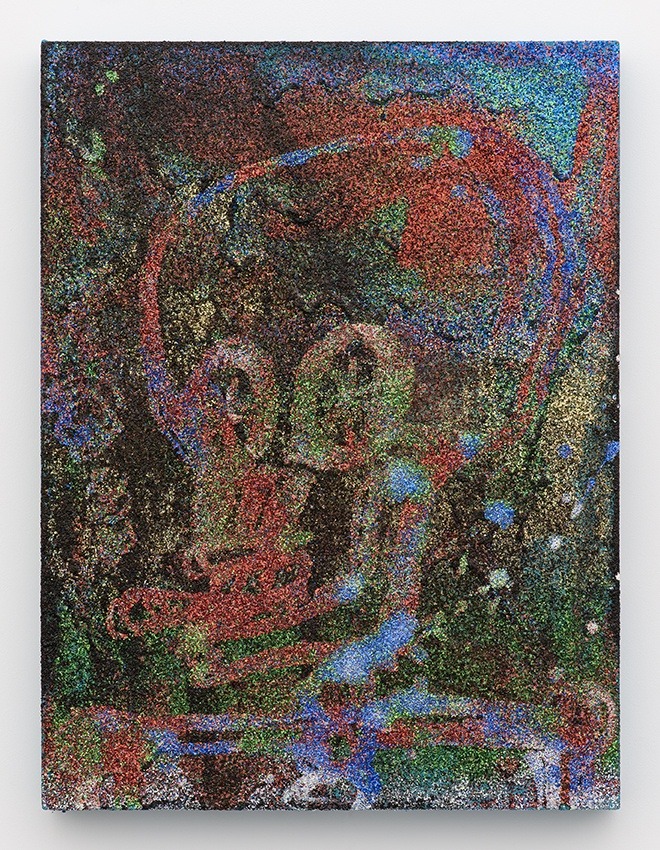 EN
In 1869 the American landscape painter R.A. Blakelock travelled through an American west that was still inhabited by close to a million native Indians. Back in his studio on 10th street in New York he invented his own intense rhythmic piano music in response to the dance songs he had heard in the west. By the late 1800's when he began his late series of moonlight landscapes and his own "Indian " paintings the native population had been largely destroyed in the genocide of white conquest and he himself was locked away in an asylum for schizophrenia. He had seen that other world just as it vanished.
I found a beautiful painting of American Indians in a junk shop up in Walton, New York in the Catskill Mountains. It showed a man and woman next to a teepee with two other figures tending a campfire and one woman walking away with a child on her back. The image was dreamlike with an enigmatic and beautiful light in it like an Albert York painting.
A few years later I was in a bar in Arizona and saw a crude painting of Indians on a wall back by the bathroom. I tried to photograph it in the dim light. It showed a group of men pointing up at an apparition in a kind of greenish swamp light. It made me think about my own Indian painting, and when I returned I began painting new images into it and adding collage. I painted on it for a few years – I painted in a moon and three dancing skeletons from a fifteenth century engraving. I added a photo of two ice cream cones, a detail of a Picasso painting, a drum, and some other stuff… It gradually got darker and strange.
Of course the idea that a particular painting in small town America could end up repainted and repositioned as a billboard in Brussels is strange. I like the idea of putting paintings out in the 'real' world. I find paintings always look very interesting on the street. We are exposed to hundreds of large images on billboards and buildings and train stations and it is almost all advertising of some kind – it has a message. I am interested in putting some images out into the city of Brussels with no 'message' – just the images themselves.
FR
En 1869, le peintre de paysage américain R.A. Blakelock fit un voyage dans l'Ouest américain où vivaient alors encore près d'un million d'indiens. De retour dans son atelier de la 10 eme rue à New York, il composa une musique rythmique intense au piano, en réponse aux chants dancés qu'il avait découvert dans l'ouest. A la fin du siècle, alors qu'il commençait ses dernières séries de paysages au clair de lune et inventait sa propre peinture "indienne", la population indienne avait été largement décimée, résultat du génocide et de la conquète du territoire par les blancs, et lui même, était enfermé en azyle pour schizophrénie. Il avait vu cet autre monde disparaitre.
J'ai trouvé une belle peinture d'Indiens d'Amérique dans une brocante de Walton, New York, dans les Montagnes Catskill. Elle montrait un homme et une femme près d'un teepee, avec deux autres personnes, réunies autour d'un feu de camp, et une femme portant un enfant sur son dos qui s'en éloignaient. L'image était comme un rêve, d'une belle lumière énigmatique qui rappelait les peintures d'Albert York.
J'ai commencé à peindre dessus, et à y ajouter du collage. J'ai peint dessus pendant quelques années – une lune et trois squelettes dansants inspirés d'une gravure du XVe siècle.
Quelques années plus tard en Arizona, j'ai vu une peinture assez grossière montrant des indiens, sur le mur des toilettes d'un bar. J'ai tenté de la photographier avec la faible lumière. On y voyait un groupe d'hommes regardant une sorte d'apparition dans une lumière verdatre. Cela m'a rappelé ma peinture indienne, et dès mon retour j'ai
ajouté l'image de deux cones glacés, un détail d'une peinture de Picasso, un tambour, et d'autres trucs… Elle est progressivement devenue plus sombre et étrange.
Bien sûr, l'idée qu'une telle peinture issue de l'Amérique profonde puisse finir repeinte et repositionnée sur un panneau d'affichage de Bruxelles est plutôt étrange. J'aime l'idée de mettre des peintures dehors, dans le monde "réel". Je les trouve toujours plus intéressantes dans la rue. Nous sommes sans cesse exposées à ces images géantes, publicitaires ou assimilées – avec un message. J'avais envie de mettre dans les rues de Bruxelles des images sans message – juste les images pour elles-mêmes.
NL
In 1869 reisde de Amerikaanse landschapschilder R.A. Blakelock door 'an American west' dat nog steeds bewoond was door bijna een miljoen indianen. Terug in zijn studio op 10th Street in New York vond hij zijn eigen intens ritmische pianomuziek uit, in reactie op de dansnummers die hij in het westen had gehoord. Tegen het eind van de 19de eeuw, toen hij zijn late reeks maanlichtlandschappen begon en zijn eigen "Indian" schilderijen, was de inheemse bevolking grotendeels uitgeroeid tijdens de genocide van de blanke verovering, en hijzelf zat opgesloten in een gekkenhuis. Hij had die andere wereld gezien vlak voor ze verdween.
Ik vond een prachtig schilderij van Amerikaanse Indianen in een prullaria winkel in Walton, New York, in het Catskillgebergte. Het portretteerde een man en een vrouw naast een tipi met twee andere figuren, over een kampvuur gebogen, en een vrouw die wegloopt met een kind op haar rug. Het beeld was dromerig met een raadselachtig en mooi licht, net een Albert York schilderij.
Een paar jaar later was ik in een bar in Arizona
en zag ik een rauw schilderij van Indianen op een muur achteraan bij de toiletten. Ik heb geprobeerd om het te fotograferen in het schemerige licht. Het toonde een groep mannen die omhoog wijst naar een verschijning in een soort groen moerassig licht. Het deed me denken aan mijn eigen Indiaanse schilderijen, en toen ik terugkeerde begon ik er nieuwe beelden in te schilderen en voegde collage toe. Ik overschilderde een paar jaar – ik schilderde een maan en drie dansende skeletten uit een vijftiende-eeuwse gravure.
Ik voegde een foto van twee ijshoorntjes toe, een detail van een schilderij van Picasso, een trommel, en een aantal andere dingen … Het werd geleidelijk aan donkerder en vreemder.
Natuurlijk is het een vreemd idee dat een bepaald schilderij dat in een klein Amerikaans stadje gemaakt werd, opnieuw geschilderd en opnieuw gepositioneerd als een reclamebord in Brussel kan belanden. Ik hou van het idee om schilderijen in de 'echte' wereld te plaatsen. Ik vind schilderijen in het straatbeeld altijd enorm interessant. We worden blootgesteld aan honderden grote afbeeldingen op billboards en gebouwen en treinstations en het is bijna altijd een of andere reclame – het heeft een boodschap. Ik ben geïnteresseerd in het plaatsen van een aantal beelden in de stad Brussel met geen 'boodschap' – alleen de beelden zelf.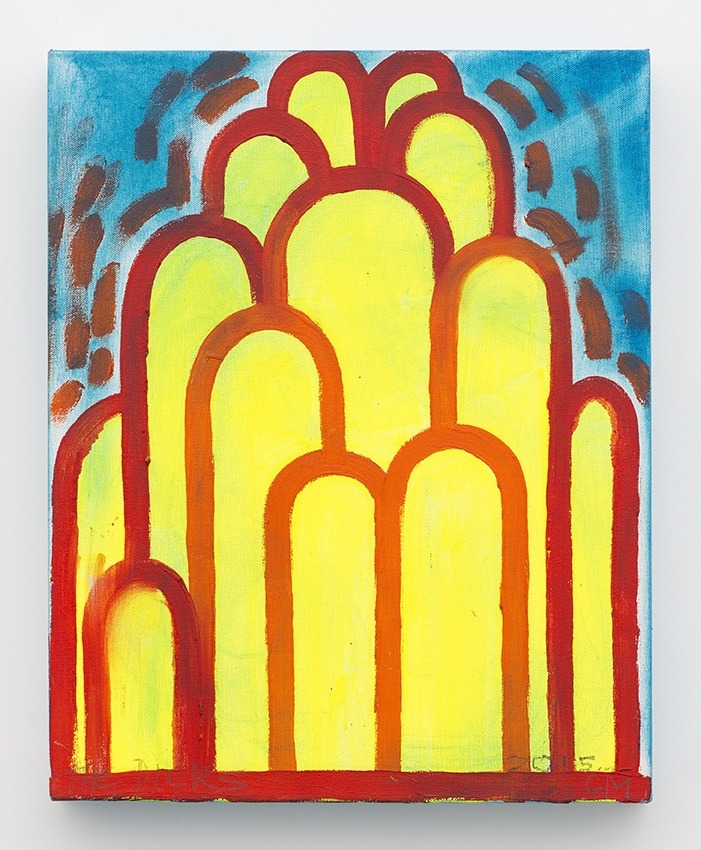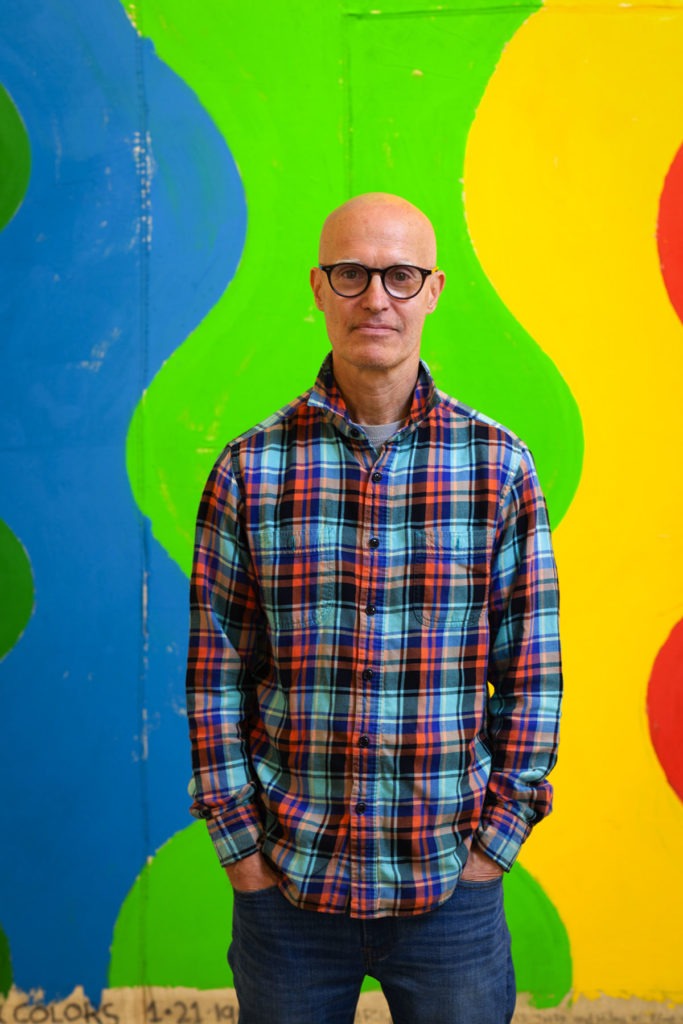 Chris Martin
Born in 1954, United States.
Lives and works in New York.