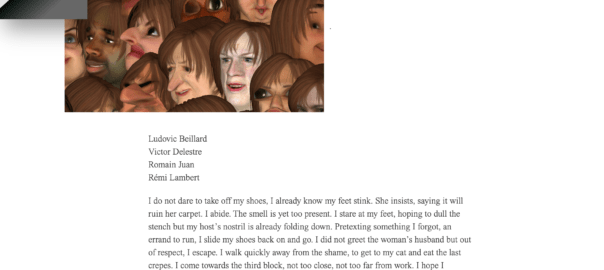 Kubaparis, February 2018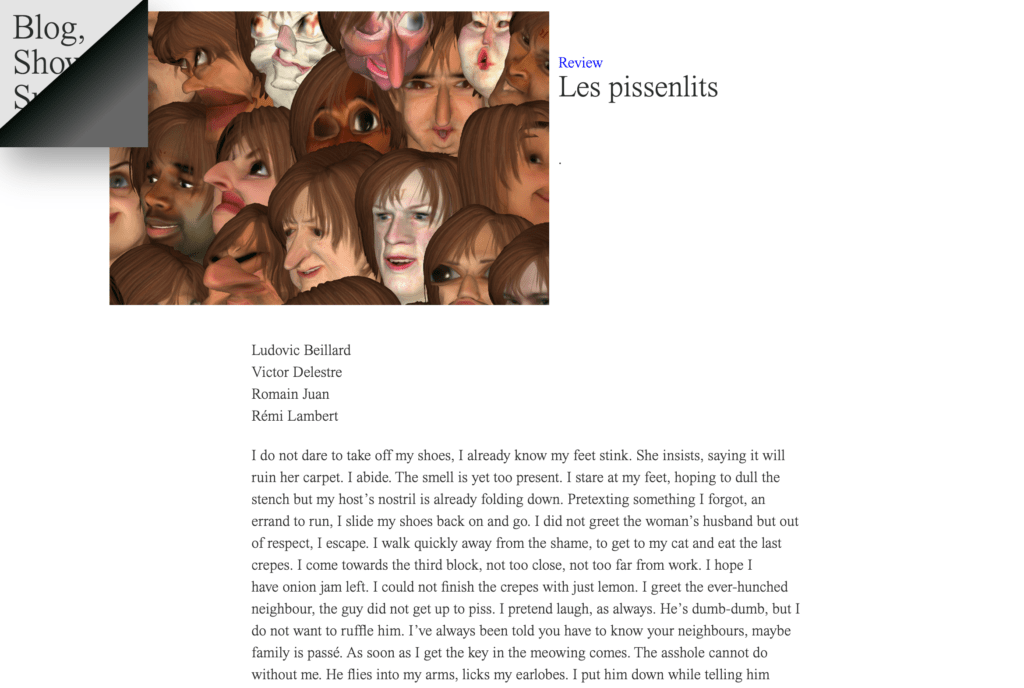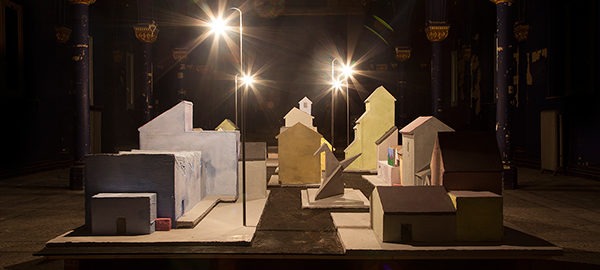 Victor Delestre, Romain Juan, Ludovic Beillard & Rémi Lambert
24 February – 11 March 2018
at Greylight Projects, Brussels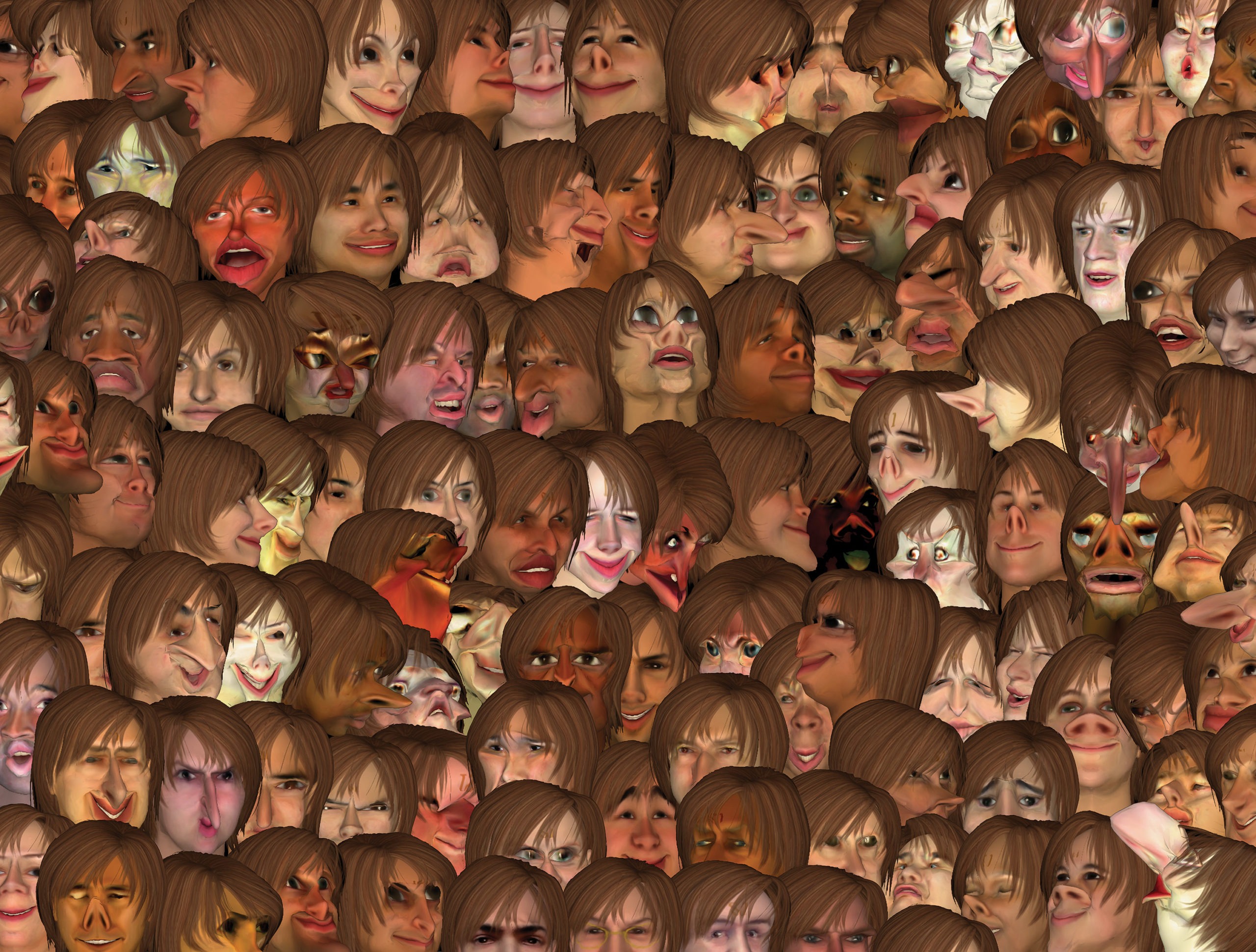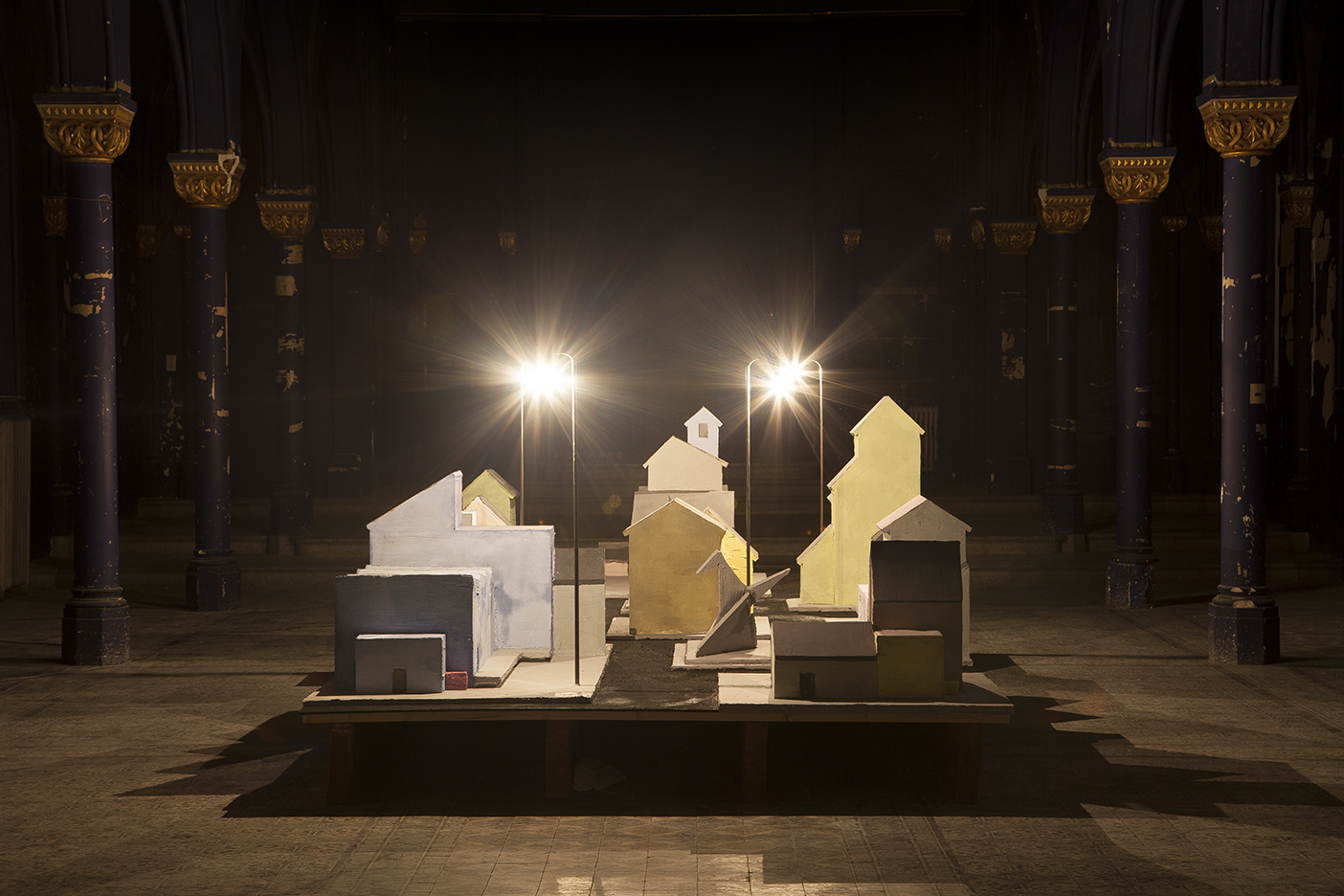 EN
I do not dare to take off my shoes, I already know my feet stink. She insists, saying it will ruin her carpet. I abide. The smell is yet too present. I stare at my feet, hoping to dull the stench but my host's nostril is already folding down. Pretexting something I forgot, an errand to run, I slide my shoes back on and go. I did not greet the woman's husband but out of respect, I escape. I walk quickly away from the shame, to get to my cat and eat the last crepes. I come towards the third block, not too close, not too far from work. I hope I have onion jam left. I could not finish the crepes with just lemon. I greet the ever-hunched neighbour, the guy did not get up to piss. I pretend to laugh, as always. He's dumb-dumb, but I do not want to ruffle him. I've always been told you have to know your neighbours, maybe family is passé. As soon as I get the key in the meowing comes. The asshole cannot do without me. He flies into my arms, licks my earlobes. I put him down while telling him about my day and figure how sad the situation is. I roll a crepe to eat by the window. Out of onion jam. The sun goes down, people are getting back home. I picture copious meals and gentle tease but maybe I'm idealising it all.
FR
Je n'ose pas me déchausser, je sais d'avance que je pue des pieds. Elle insiste, me disant que cela va pourrir sa moquette. Je me plie à ses volontés. L'odeur est déjà trop présente. Je regarde mes pieds espérant atténuer ce relent mais l'hôte commence déjà à plisser du nez. Je prétexte un oubli ou une course, renfile mes chaussures et sort. Je n'ai pas eu le temps de saluer le mari de cette femme mais par respect pour eux, je m'enfuis. Je marche vite pour m'éloigner de cette gêne, rejoindre mon chat et manger les dernières crêpes. Je me dirige vers le troisième bloc, ni trop loin, ni trop près de mon travail. J'espère qu'il me reste de la confiture d'oignons. Je ne pourrais pas finir les crêpes avec juste du citron. Je salue le voisin qui est encore prostré, le mec ne s'est pas levé pour pisser. Comme toujours, je fais semblant de rigoler. Il est un peu bébête mais je ne veux pas le froisser. On m'a toujours dit qu'il est essentiel de connaître ses voisins, je ne sais pas trop pourquoi, faut croire que la famille est une notion ringarde. J'enfonce à peine la clef que voici les miaulements. Ce con, il peut pas se passer de moi. Il me saute au cou, me lèche les lobes. Je le pose tout en lui racontant ma journée et me rend compte de cette triste situation. Je me roule alors une crêpe et la déguste au bord de la fenêtre. Je n'avais plus de confiture. Le soleil se couche, les gens commencent à rentrer chez eux. J'imagine des repas copieux et des taquineries mais peut-être que j'idéalise trop les choses.
NL
Ik durf mijn schoenen niet uit te doen, ik weet al dat mijn voeten stinken. Ze dringt erop aan, omdat ik anders haar tapijt zal vernielen. Ik geef toe. Maar de geur is te aanwezig. Ik staar naar mijn voeten, in de hoop dat dat de geur zal vervlakken, maar mijn gastvrouw knijpt haar neus al dicht. Ik doe alsof ik iets ben vergeten, of dat ik nog iets moet doen. Ik trek mijn schoenen weer aan en ga er vandoor. Ik had geen tijd om de man van de vrouw te begroeten, maar uit respect voor hen ren ik weg. Ik loop snel weg van de schaamte, om me weer bij mijn kat te voegen en de overgebleven pannenkoeken op te eten. Ik ga naar het derde huizenblok, niet te ver weg, niet te dichtbij mijn werk. Ik hoop dat ik nog uienjam heb. Ik zou de pannenkoeken niet kunnen opeten met alleen citroen. Ik begroet de nog altijd moedeloze buurman, de man stond niet op om te plassen. Zoals iedere keer, doe ik alsof ik lach. Hij is een beetje vreemd, maar ik wil hem niet kwetsen. Mij is altijd verteld dat het belangrijk is om je buren te kennen, ik weet niet echt waarom, misschien is familie achterhaald. Zodra ik mijn sleutel in het gat heb gestopt, begint het gemiauw. De sukkel kan niet zonder me. Hij vliegt me in de armen, likt mijn oorlellen. Terwijl ik hem over mijn dag vertel zet ik hem op de grond en realiseer ik me hoe triest de situatie is. Ik maak een pannenkoek en eet deze bij het raam. De uienjam is op. De zon gaat onder, de mensen keren terug naar huis. Ik stel me overvloedige maaltijden en plagerijtjes voor, maar misschien idealiseer ik dit allemaal.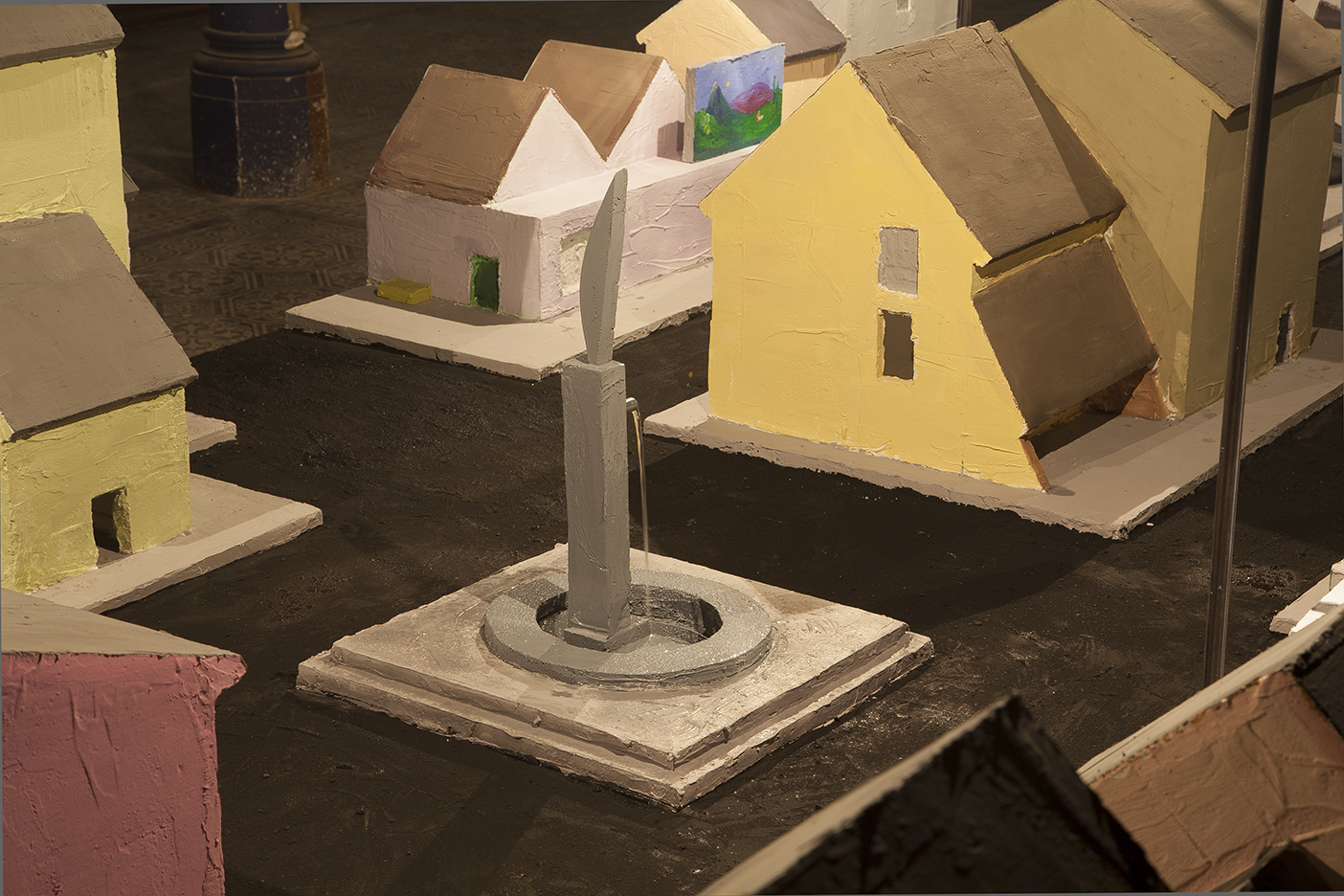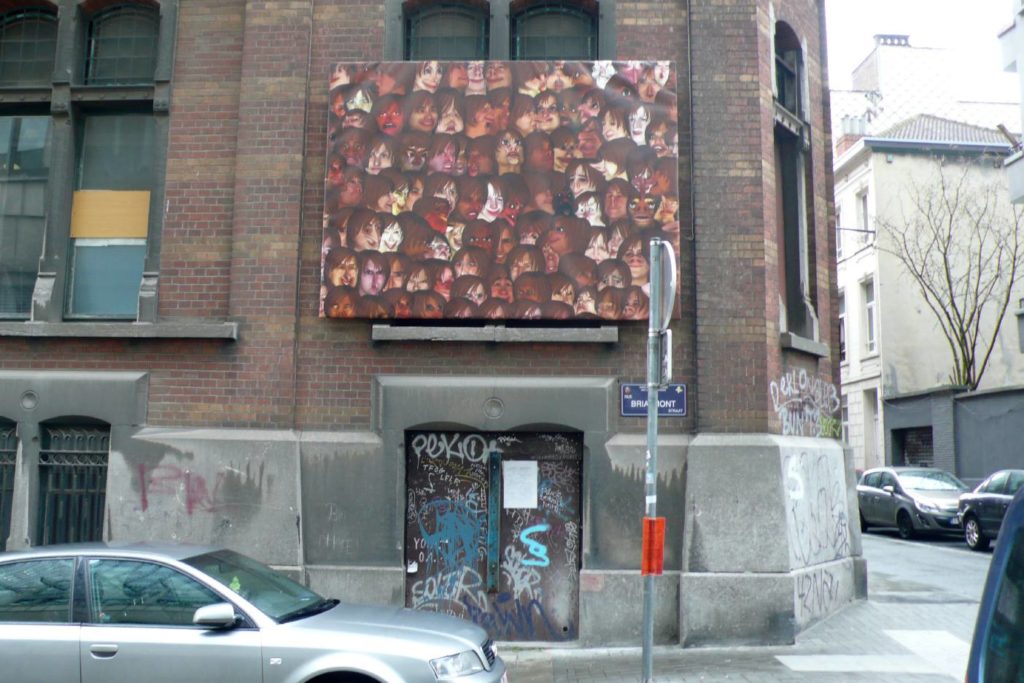 I've always been told you have to know your neighbours, maybe family is passé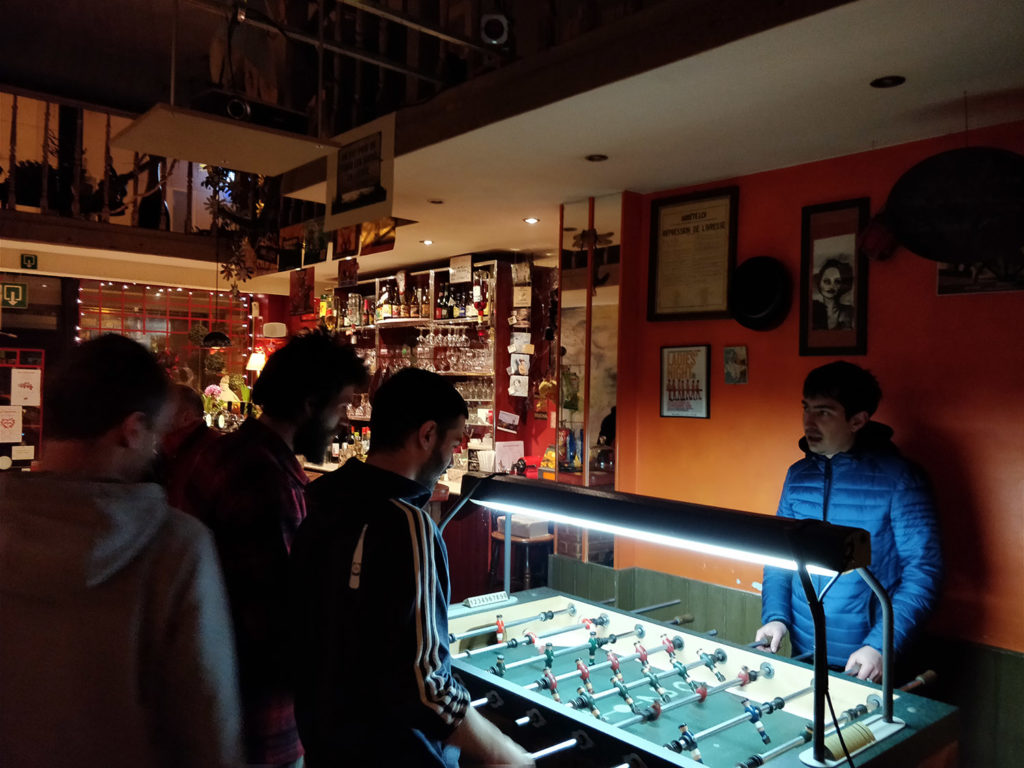 Victor Delestre
Born in 1989 in France. Lives and works in Brussels.
Romain Juan
Born in 1984 in France. Lives and works in Brussels.
Ludovic Beillard
Born in 1982 in France. Lives and works in Brussels.
Rémi Lambert
Born in 1991 in Switzerland. Lives and works in Brussels.