ABOUT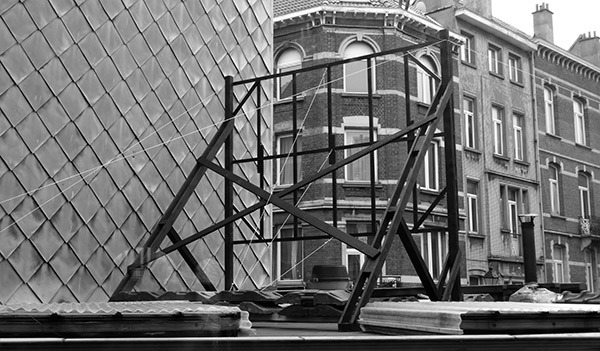 [FR]
Rectangle invite des artistes à développer des projets dans les arts visuels, en relation avec la spécificité géographique du bâtiment qui l'abrite. A cette fin, Rectangle propose un contexte de visibilité simple, innovant, en lien direct avec l'espace public : un panneau d'affichage de 4 x 3 m monté sur une structure en bois placée sur le toit de notre atelier.Installé dans une ancienne imprimerie d'étiquettes de Saint Gilles, entre la gare du Midi, le Wiels et la Smart, Rectangle est aussi un lieu de production, d'échange et de réflexion pour les artistes contemporains, tous médiums confondus. Rectangle questionne l'univers visible du passant, de la personne qui travaille non loin, du voisin qui habite le quartier depuis 20 ans.
En relation avec ses activités, Rectangle veut être une plateforme dynamique de dialogue avec le public.
Rectangle est une association sans but lucratif dont la direction artistique est assurée par : Jérémie Boyard, Pierre-Pol Lecouturier, Xavier Pauwels.
[EN]
Rectangle is an artist run public space project that re-uses the strategies of advertising campaigns in the realm of an urban surrounding. Rectangle is a home made billboard standing on the roof top of a former label printing workshop now used as a collective artist studio, in Saint Gilles, Brussels.Every two months a new artist work is displayed and remains visible from the street, 24/7.
Between the Brussels-Midi international train station and the contemporary art centre Wiels, Rectangle proposes an innovative, simple and direct link with the public of a multicultural and transforming neighborhood.
Active in research, production and collaborations, Rectangle is also a polyvalent laboratory for contemporary artists of all media. In connection with its various activities, Rectangle aims to be a dynamic platform, a meeting place for artists and the public.
The artistic direction is covered by: Jeremie Boyard, Pierre-Pol Lecouturier, Xavier Pauwels.
[NL]
Rectangle is een kunstenaarsinitiatief project in het openbare ruimte dat de strategieën van reclamecampagnes hergebruikt in het gebied van een stedelijke omgeving. Rectangle is een zelfgemaakte aanplakbord op het dak van een voormalige workshop waar etiketten werden afgedrukt, hedendaags wordt de ruimte gebruikt als een collectief kunstenaar studio, in Sint-Gillis, Brussel.
Elke twee maanden wordt werk  van een nieuwe kunstenaar weergegeven die continue zichtbaar blijft  vanaf de straat, 24/7.
Tussen het internationale treinstation Brussel-Zuid en het centrum voor hedendaagse kunst Wiels, stelt Rectangle een innovatieve, eenvoudige en directe band met het publiek van een multiculturele en transformerend buurt.
Actief in onderzoek, productie en samenwerkingsverbanden, Rectangle is ook een polyvalente laboratorium voor hedendaagse kunstenaars van alle media. In verband met de verschillende activiteiten, (streeft)/wil Rectangle een dynamisch platform, een ontmoetingsplaats voor kunstenaars en publiek (te) zijn.

De artistieke leiding wordt beheerd door: Jeremie Boyard, Pierre-Pol Lecouturier, Xavier Pauwels.